"Working to demolish, redevelop, and build on seaports and airports has many constraints due to the constant flow of arrivals and departures throughout the day and night. To be competitive, it is necessary to follow a schedule and avoid going over the budget. This way, companies can generate profit, which is needed during these difficult times caused by the global pandemic." This statement summarizes the difficulties and expectations that companies, whose job sites are located within seaports and airports, have to deal with. They turn to MB Crusher to find a solution that helps them improve operations and increase profit.
Reducing costs of waste material disposal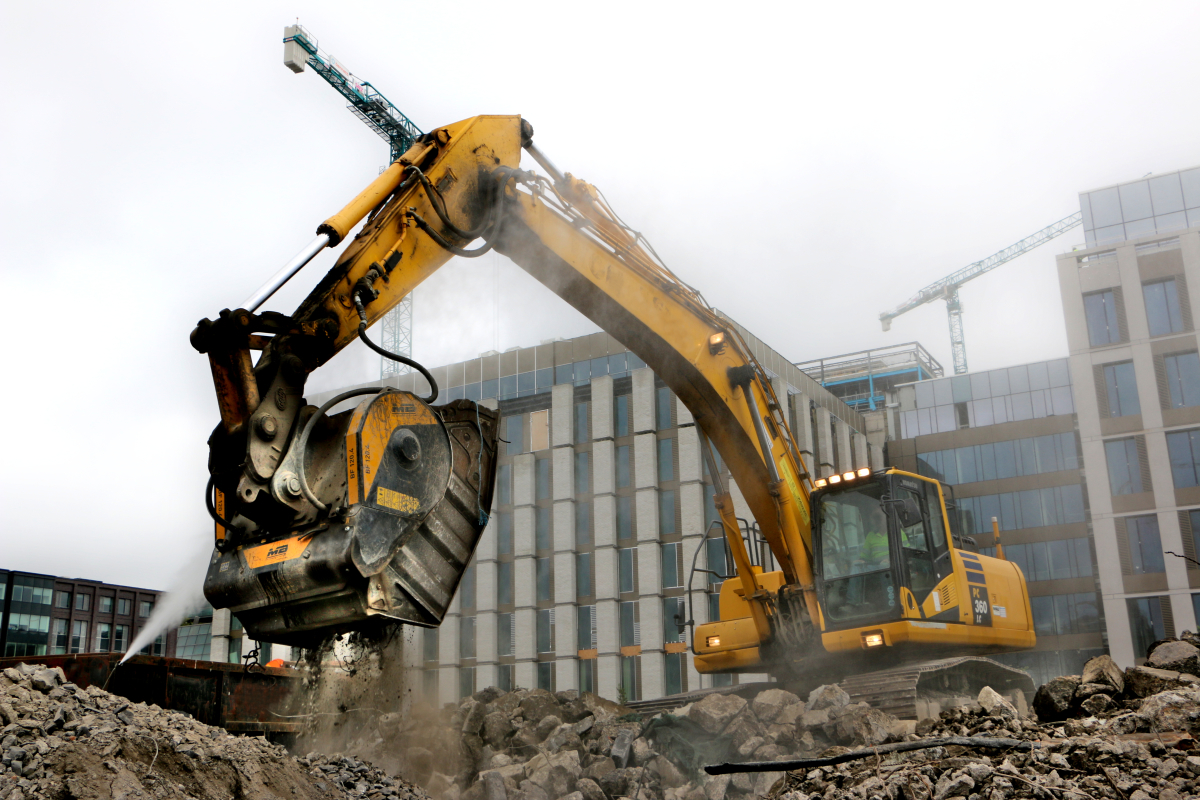 Crushing of demolition waste at the Dublin seaport – BF120.4 crusher bucket mounted on a Komatsu PC360 LC
© MB Crusher
When managing remediation work either on seaports or airports, it is necessary to deal with large quantities of waste material that needs to be crushed or hauled to a landfill. The costs of transporting and processing the material also weigh on the final budget.
The reclamation company on the job at the Dublin seaport, installed a BF120.4 crusher bucket on their excavator to crush demolition waste. They doubled their advantages: no transportation and disposal costs, and they recovered the material on the spot; in this case, the material was reused to construct a new eight-story building. They overcame another obstacle with the crusher bucket: reaching the construction site using access routes consisting of old and narrow alleys. Since the unit was installed on the excavator, MB's crusher bucket arrived on site quickly and without incurring additional costs.
Reducing the amount of debris while significantly diminishing vehicle traffic on the job site
Handling debris requires many trucks going to and from the construction site. At an old Tripoli airport, a company used a BF120.4 crusher bucket to recycle the rubble from the buildings destroyed by a bombing, then reused the material as a substrate for future road construction projects. A direct consequence of onsite recycling was the cut of hauling and buyback expenses.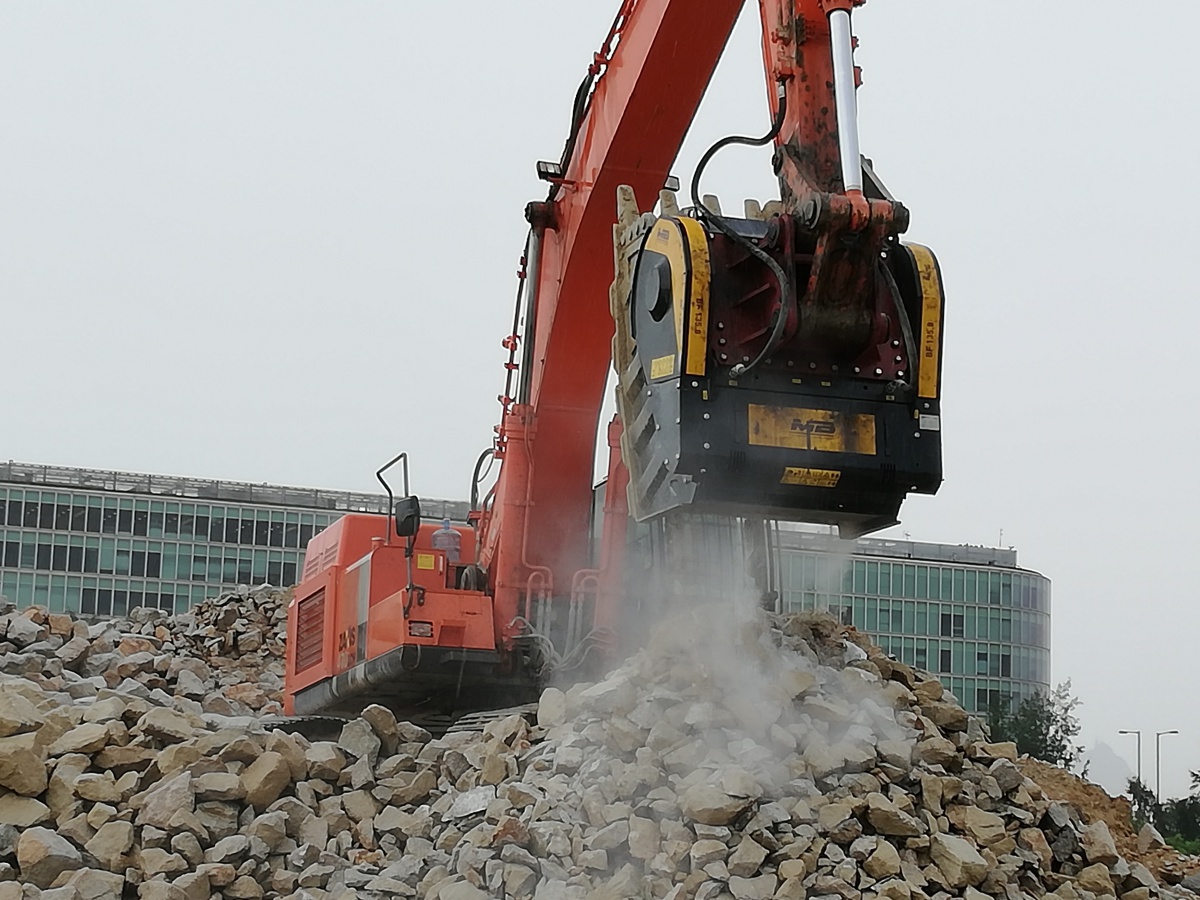 Onsite granite recycling at an airport in Hong Kong
© MB Crusher
A similar problem also arose at an airport in Hong Kong where managing time and resources was essential to keep the traffic flowing. Using the BF135.8 crusher during some of the buildings' renovations made it possible to recycle all the material without needing other machines.
Finishing a project without delays
Mobile MB Crusher's BF80.3 crusher bucket mounted on a Caterpillar 325DL in operation at the container terminal and storage area at the seaport at Conakry/Guinea …
© MB Crusher
When it comes to renovations at a seaport, factoring in time is essential to avoid slowing down daily operations such as loading/unloading goods and passengers. In Guinea, the seaport at Conakry has invested over 300 million dollars in renovating the container terminal and storage area's deformed flooring. Every year, this seaport records about 2 million tons of goods that arrive and leave their docks.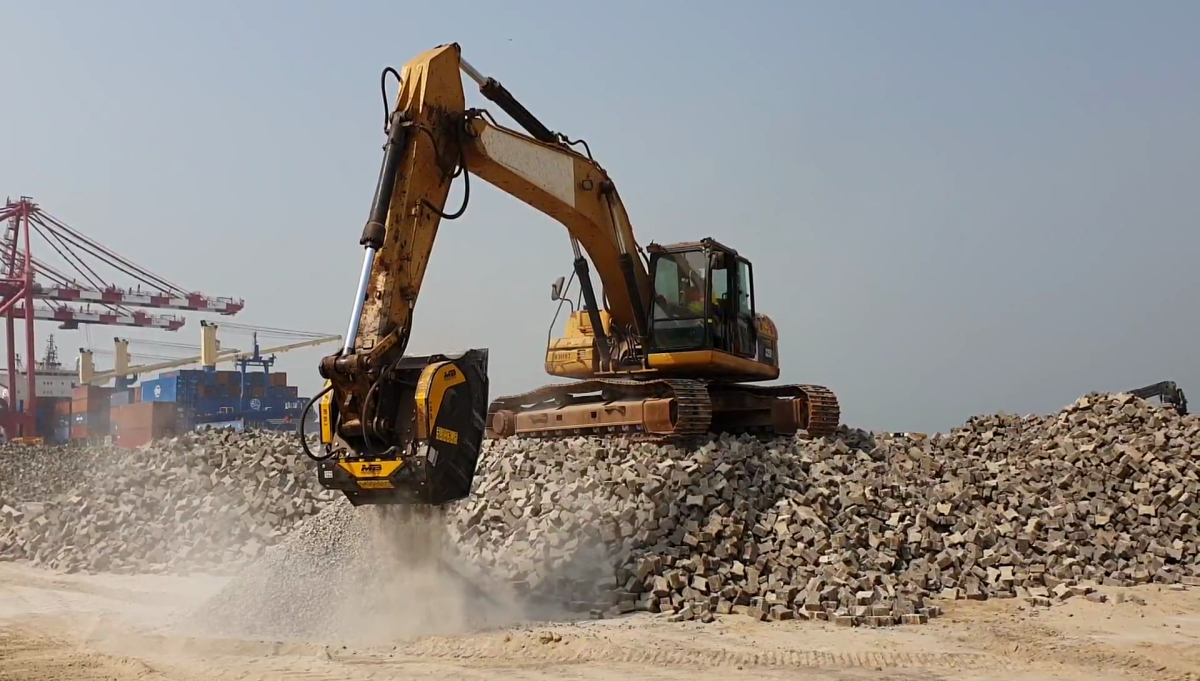 … for reusing of waste material
© MB Crusher
The goal was to remove the self-locking concrete blocks, reinforce the subsoil and lay down new concrete. The intention: to finish on time or even ahead of schedule, if possible, and avoid hindering commercial activities. Because of this, they chose MB Crusher's BF80.3 crusher bucket: with a single unit, they took the existing blocks and crushed them down to an output size between 0 – 3 cm and then distributed it over the substrate, creating an excellent mixture capable of withstanding heavy loads. All of the work was done by reusing waste material and without requiring trucks.
Cutting precisely without wasting resources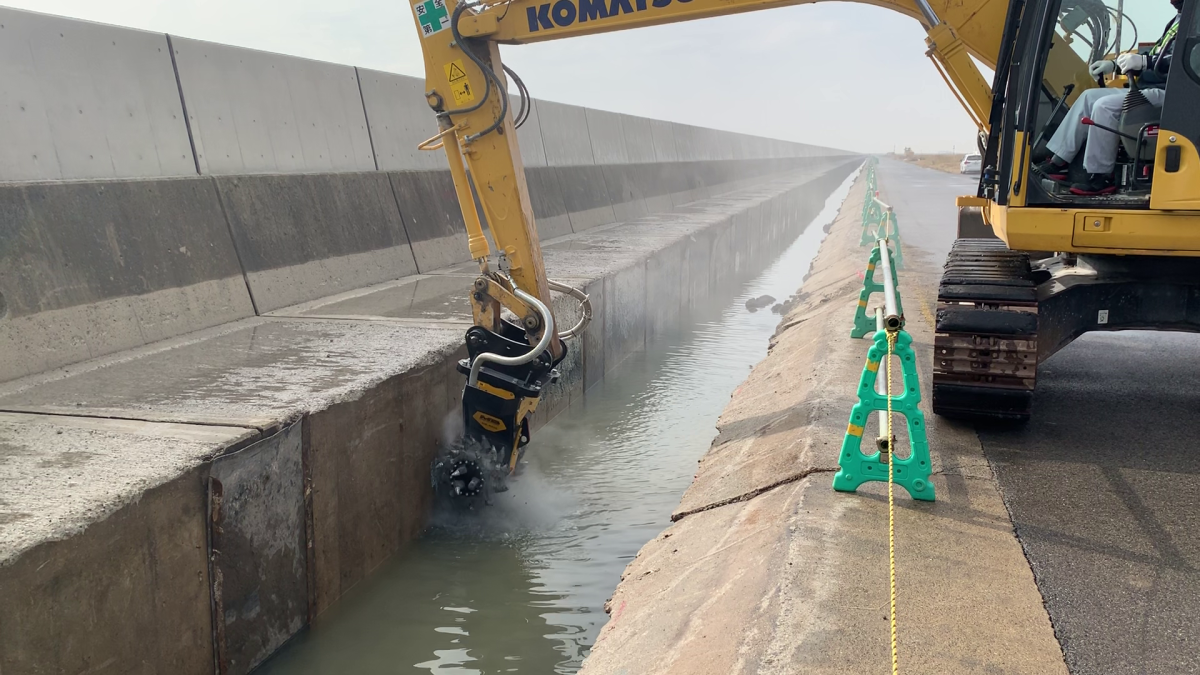 MB Crusher's drum cutter in operation at an important port in Japan – mounted on a Komatsu PC138
© MB Crusher
When working close to the ocean and having limited space, it is essential to work with precision. This was the case at an important port in Japan, where a long anti-storm barrier needed to be raised by one meter. They needed to mill the concrete exterior to ensure that the new casting would adhere to the old surface, guaranteeing impermeability, stability, and external drainage of water. MB Crusher's drum cutter can grind the reinforced concrete layer without damaging the original structure.