Established in 1968, PFERD South Africa has become a major player in the abrasive industry within South Africa and on the African continent.
PFERD South Africa's parent company August Rüggeberg is situated in Marienheide Germany and was founded in 1799. "With over 200 years of experience, we are certainly able to provide the industry with highly effective and innovative products." says Mr. Horst Frenzel, managing director of PFERD South Africa.
With its head office and manufacturing facility in Kempton Park, Johannesburg, PFERD South Africa have expanded to include four additional sales and distribution offices within South Africa. From their South African operation, they serve the whole sub-Sahara region through various distributor networks, so doing further increasing their African footprint. Over the past 50 years PFERD South Africa have become well known within the industry which is mainly due to their philosophy that THERE IS NO SUBSTITUTE FOR QUALITY AND SAFETY. This philosophy is supported by PFERD's main goal to consistently supply industry with the highest quality products, that offer the user maximum comfort and safety. As a founding member of the Organisation for the Safety of Abrasives (oSa), PFERD is committed to ensure premium quality products which offer the user the highest level of safety. All PFERD products are manufactured to achieve unsurpassed performance, superior process optimisation while maintaining maximum cost efficiency.
PFERD South Africa's national sales manager Mr. Dennis Phillips, explains that with more than 8 500 products for surface preparation, finishing and cutting, PFERD offers a solution for every application within a variety of industries including Mining, General Fabrication, Engineering, Manufacturing, Aviation, Automotive and the Foundry industry to name a few. "This is backed by continuous technical support" mentions Phillips. "We are committed to customer service and we aim to ensure product availability and customer support". PFERD has a well-trained sales force with the knowledge and expertise to analyse customer application problems on site and offer the optimum product solution both in terms of technicality and cost efficiency. To this extend PFERD invested in a state-of-the-art Training Academy where training is offered to staff and customers. "We not only offer training to our own staff, but also to our customers both on product selection, safety as well as application specific training sessions." says Phillips. "This is offered free of charge with the objective to ensure operator safety within our industry."
PFERD's dedication to technical expertise and constant improvement is evident through ongoing investment in their South African manufacturing facility as well as continuous research and development. This has allowed PFERD to design and manufacture numerous new products over the past number of years. These products include unique products such as the PFERD ALUMASTER which is a milling tool dedicated to the Aluminium Industry. Another industry first is PFERD's Diamond Filament Brush range which is used to round the cutting edges of carbide tools and inserts during the manufacturing process. "We are proud to say that additional new products such as the CC GRIND STRONG and E-COMFORT are produced locally in South Africa" mentions Frenzel. These grinding disc offer much improved stock removal rates while reducing the overall noise, vibration, and dust emissions during operation. In addition to this PFERD is also expanding their range of material specific Tungsten Carbide Burrs which will include their new ALL ROUND cut which achieves higher stock removal rates when compared to the general cuts currently available in the market. This will allow PFERD to offer and supply the market with the optimum and most cost-effective product for each unique application.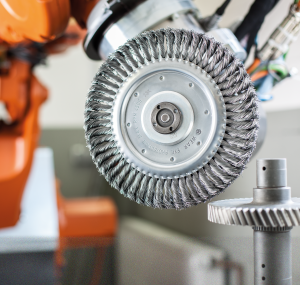 PFERD's focus is not only on the manufacture of products and the supply thereof, but also on being a responsible corporate organisation. "Our company values are built on being a business partner that trades ethically, transparent and honest and so doing being a reliable and dependable supplier and employer" says Frenzel.
"We will continue to invest in our South African manufacturing facility to ensure we maintain our ability to offer and supply the local as well as African market with the highest quality, safest and most cost-efficient abrasive products. So doing we can contribute to the future sustainability of not only PFERD South Africa, but also our business partners across the continent" concludes Frenzel.
For additional information please contact PFERD South Africa on :
Tel                          : +27 11 230 4000
E-mail                    : info@pferd.co.za / sales@pferd.co.za
Website               : www.pferd.com