As a well-established specialist with over 10 years' experience in the fields of automotive electronics and E-Drive Systems Huber Automotive has been successfully driving product development and JV networking with a view to meeting the growing demand for e-mobility solutions, battery management tools and energy storage systems, as well as sophisticated vehicle electronics.
E-mobility and hybrid vehicle concepts as an all-in-one solution
The e-drive/hybrid division supplies e-mobility and hybrid vehicle units as an all-in-one solution.
Like the original, the electric version of the Toyota Land Cruiser is designed for use in extreme environments
and remains a 2WD/4WD vehicle both with and without reduction gearing. It is ideal for operating in rough terrain, especially in the mining industry. This ultimate workhorse is available as Pick up with Single or Double Cab, short, standard  and long Station Wagon (J71, J76, J78, J79 SC and DC), right hand as well as left hand driven.
The e-drive system comprises standard components from leading suppliers, for example Bosch. These are arranged into a new architecture that best exploits their individual strengths. This is all made possible thanks to the core element of the system, Huber's innovative control unit that uses a 32-bit power architecture to extract peak performance from the individual components under ideal thermal conditions. In the brand-new update of the already successful E-Drive Kit, a for Heavy-Duty developed 35 kWh battery pack is installed.
Relevant data on permanent dashboard display
The vehicle's instrument panel has an implanted digital 10.6-inch display with integral speaker and user
interfaces designed to show all key data, such as battery charge, system temperature and speed. A rear-view camera can also be fitted, and its images displayed in picture-in-picture mode.
A powerful performer on road and on rough ground – above and undergroun
The RUN-E Land Cruiser has a peak performance of 90 kW at a maximum torque of 1,410 Nm. The standard
version can climb gradients of up to 45%, while fitting the extra 'high off-road' equipment creates a vehicle
with a theoretical gradeability of 95%. The high-performance and robust 35-kWh battery has a maximum range of 150 km on-road and between 80 and 100 km off-road. With the powerful 22kW On-Board-Charger, the battery can be charged in 1 hour and 45 minutes from empty to full. The RUN-E Land Cruiser can reach speeds of up to 130 km/h on normal road surfaces, while 35 km/h is possible off-road on gradients up to 15%.
By fitting add-on packages, such as battery cooling or heating and an air-conditioning system, the RUN-E
Electric Cruiser can be adapted to suit individual mine-site conditions. If required, a climate control unit can
even be fitted for the vehicle's passenger area.
The electric version delivers 100% pollution-free travel, and this greatly enhances the health and safety of the workforce, especially underground, where it also significantly cuts expenditure on vehicle maintenance, oils/fuel and mine ventilation. It is fully certified according to ECE R 100 and ECE R10.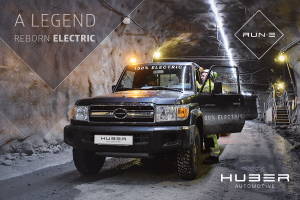 www.huber-automotive.com
https://www.youtube.com/channel/UCSxwQrKqtoa1LWfPSMApXuQ?
https://www.facebook.com/RUN.E.HuberAutomotive